Often, awards programs are viewed as ego-centric, time-consuming and unnecessary. 
Think again! We're here to flip that thought on its head.
Read on to learn eight undeniable reasons why entering awards is an essential business practice that you cannot afford to miss!
1. Internal Recognition
One of the most important factors behind why businesses should place importance on awards is to help recognise the different teams within the organisation. For example, teams work hard to produce incredible results for clients and customers across the board so an award win is recognition not just for the work they have done for clients, but for the teams themselves and the hard work they put in day to day.
Even the act of entering awards shows team members that the company values their work and acknowledges their contribution to the business's success. Being shortlisted and/or ultimately winning gives teams a huge amount of pride that can lead to an increase in morale and a big push in motivation.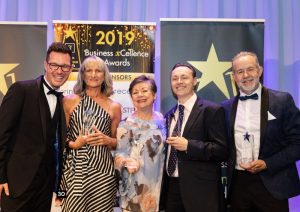 2. External Reputation
Awards are a great indicator of companies that uphold best practices and are able to externally validate all the hard work that goes on internally.
You want clients to be impressed by your company and your people, not just because it instills respect and shows them that you are in the best position to help them with their needs, but also because clients, just like the modern consumer, want to know they are working with an organisation that is good to their people.
After all, happy employees make for more engaged workers who will be more effective in the long run.
3. Attract New Business
A good reputation can lead to client wins and revenue increases while a bad reputation can harm a company's financial standing beyond repair in a matter of hours.
Awards are a great way of building a strong, positive reputation and that can be a magnet for new business. Clients want to know that they will be receiving award-winning services and these wins can act as perfect testimonials.
4. Attract Talent
As well as attracting new clients, awards can help attract and retain new recruits who want to be associated with an award-winning company.
The opportunity to work for a company who have strong accolades to its name can entice talent at every level and help your company enhance its talent pool with people eager to uphold and advance the company's reputation.
5. Benchmarking
The competitive nature of award schemes encourages team members to strive to be the best: create the best results and work together in the best possible way.
This is good for the business as well as for clients. It is a chance to benchmark work against industry peers and see how your work measures up. It can also provide a chance to take inspiration from other businesses within the industry.
6. Learning Opportunities
Company-specific awards allow you to evaluate how you are improving year after year and provide a great opportunity to really look at the inner workings of your company.
Going up the ranks over the years demonstrates that you're doing more than just listening to feedback from team members, it shows that you are learning and implementing change to keep ahead of the competition and future-proof the business.
7. Brand Exposure
Awards can of course help garner fantastic brand exposure!
Winners are celebrated amongst peers both at the ceremonies and in the post-ceremony literature, and there are valuable PR and social media opportunities involved.
Use social media, or your internal news feed, and your blog to share awards news. Use these platforms to update and congratulate your teams, boosting their profiles and celebrating your achievements as a company.
8. Networking
The ceremonies also give you a great opportunity to reward team members and treat clients and partners to what can be fun, social evenings out. The chance to bond with teams outside of the office in a celebratory environment can have huge benefits for team morale and the networking and socialising opportunities for clients and partners can also be hugely beneficial.
Entering awards is not purely a marketing exercise. The benefits run through every aspect of a business from boosting team morale to attracting new talent, networking opportunities, and time for a little self-evaluation.
The entry process can be as important as the recognition that comes from winning should not be underestimated and the power of celebrating team members at all levels can be a hugely powerful tool in increasing employee happiness, engagement, and effectiveness.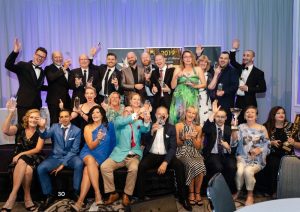 Take the Next Step
With the above in mind, we hope that the 20-minutes it'll take you to complete your entry for the Business xCellence Awards will be viewed as time well spent!
You may also extend this good fortune, and nominate another business that you know deserves all the recognition and reward that being a part of this prestigious awards program brings.
Find out more about the program, and how to enter HERE.
___________________________